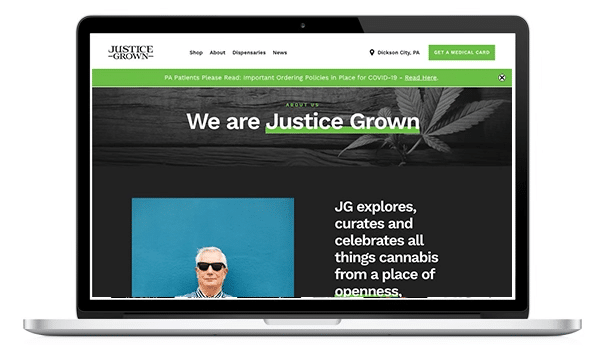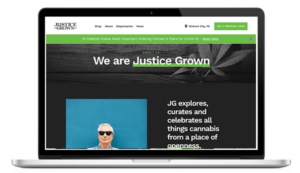 Welcome! You're here and you're excited to begin the ordering process. We're excited to have you, and to show you how easy it is to find Justice Grown's best medical marijuana products. Now sit back and relax, because we're going to take you on a journey to understand how simple it is to order through the new JG website. 
When it comes to online navigation, you want to be able to complete your order in as few steps as possible. Not everyone has the time or energy to explore a website if they have a specific purpose in mind, nor should they have to. Understanding this principle, we've refined our website to reduce the number of clicks needed to conclude your purchase. Let's take a look!
The Justice Grown Homepage 
Upon arrival, you will notice four simple areas on our homepage with the most important information right in front of you. Only moments after you are greeted by our logo, you will automatically see an appealing display of the brands we carry. Below that, you can shop by popular categories, including flower, vaporizers, concentrates, tinctures, and edibles. Scroll down a little further and you can learn more about our licenses across the country. At the bottom, you will find helpful information through our Instagram posts, including staff picks, discounts, strains of the week, news tidbits, and more.
Purchasing medical marijuana products from Justice Grown has never been easier. And with a customer support team that is eager to educate, you can shop confidently knowing you will make it to checkout with everything you need. 
Ordering Online
To begin, visit https://justicegrown.com/pa-dispensaries/ and select your preferred store. From there, you will be taken to our online ordering portal, which contains information like store phone number, hours of operation, and promotions. Scroll down to see a selection of our products broken down into categories, specials, staff picks, bestsellers, and our most popular items by type. 
You can browse our inventory from this page and click "Add to cart" on any products you wish to purchase. Once you are finished shopping, you can click the blue shopping cart icon on the upper right-hand corner, which will be right below the location banner if you scroll all the way to the top. 
After you've reviewed your cart to make sure everything looks correct, click "Proceed to checkout," where you can finalize your order. If you already have an account with us, simply sign in to complete your purchase. If you are a new customer, you may proceed by entering your name, number, date of birth, and email. Check the box below the "Email" field to retain all this information for future purchases. 
You will see options for payment methods and how to receive your purchase, a checkbox to confirm you have a state-issued medical card, a checkbox to opt-in for email promotions if you choose, and a summary of your order where you can add any special instructions. 
Before clicking the blue "Place order" button, be sure to click on the blue link that says "Add a promo code" to include any applicable discounts. This link can be found below the subtotal within the gray box in the upper-righthand corner. 
Once you place your order, you're all set! We'll take it from there and send you text updates notifying you when your order is ready for pickup.
We're Here for You
If at any point along the way you have questions or are unsure how to proceed, please give us a call. Whether you're seeking help with purchases, pricing, availability, or even if you need some advice from experienced medical marijuana connoisseurs, we are here for you. Call us during or after our normal business hours, and if no one is available, you may leave a message and rest assured knowing every call is answered within 24 hours. No matter what, you can count on getting the information you need.  
We believe feeling good is always the destination, and that the journey there shouldn't be complicated. We're here every step of the way to ensure it's a smooth ride from beginning to end.
We hope you enjoy shopping on our all-new website. Please feel free to share your experience with us so we can continue to grow and improve our platform!